Harry GOLDSCHMIDT
5 May 1872 – 26 Sep 1896
<![if !vml]>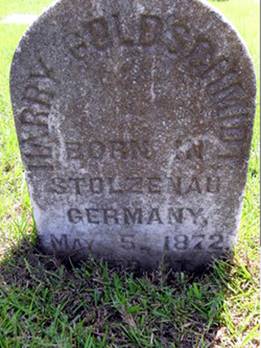 <![endif]>
Harry Goldschmidt's Tombstone, Oakwood Cemetery, Montgomery, AL
Leo Goldschmidt's brother, Harry Goldschmidt, was born on 5 May 1872 in Stolzenau.  He died in the United States on 26 Sep 1896, at the age of 24, and was buried in Montgomery, Alabama.
<![if !vml]>

<![endif]>
Harry Goldschmidt's signature
Records from the city of Hengelo in Holland show an Arie Goldschmidt (born 5 May 1872 in Stolzenau), was resident there during the early 1890s.  Harry, known as Arie in Dutch, had been living in the home of Jenny Nachmann and her husband Meijer Goedhart, who ran a haberdashery store in Hengelo.  Jenny Nachmann was the sister of Harry's mother.  One presumes that Harry went to Hengelo after completing elementary school to start his working life by helping in his aunt and uncle's store. 
In 1893, at age 21, he decided to travel to the United States.  His destination was Montgomery, Alabama, where his uncles Joseph and Adolph Nachmann (brothers of his mother Fanny Nachmann) had emigrated earlier and established a clothing store called Nachman, Meyer & Meertief.  Once again, he went to work for relatives, helping them in their store.
<![if !vml]>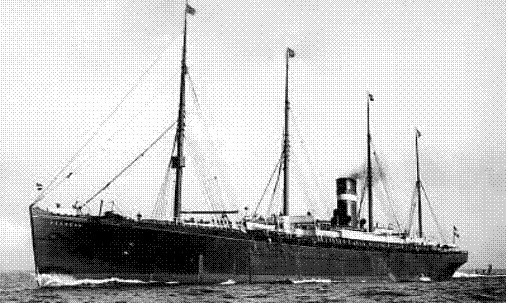 <![endif]>
Holland America Line Steamship Veendam 1
Plied the route between Rotterdam and New York during the years 1889 - 1898
From Ancestry ship records I was able to learn that he travelled from Rotterdam to New York on the steamship Veendam, arriving in New York on 7 Apr 1893.  He gave his occupation as clerk, intended destination as Alabama and previous residence as Hengelo.  He had 4 pieces of luggage.
I have copies of two postcards written by Harry, which were mailed to his brother Julius, in Berlin.  The first postcard was written on 15 March 1893, just a few days before his departure for America.  Click on this link to read what he wrote.  This link also contains interesting information about a political event that took place near Stolzenau around that time.
Then, on 17 April 1893, a few days after his arrival in Montgomery, he wrote the following postcard to his brother.
<![if !vml]><![endif]>

Montgomery (AL) 17/4/93

Dear Julius:

I got here last Wednesday evening 11/4.  I arrived safely, and found the relatives in good health. It's a different world here; there is much to get used to, and to take in.

The city here has 30-40,000 inhabitants, mostly negroes, and only English is spoken.

Will write to you in more detail soon, no time right now, it's high season here.

For now, best greetings to you and all other relatives there

from your brother Harry

Address: Nachman, Meyer & Meertief

29 Dexter Avenue

In a postcard dated 17 Apr 1893, Harry informs his brother in Berlin of his arrival.
It appears he spent about 2 years in Montgomery, and then moved to New Orleans, Louisiana.  By 1896 he was living in a rooming house at 218 Bourbon St. and had got a job as life insurance agent.  But in September of that year a tragic incident occurred in the rooming house that led to Harry's death.  A detailed story of what happened was reported in the New Orleans Times-Picayune newspaper, and is reproduced here.
I first learned about Harry Goldschmidt's existence from my mother, in the 1980s.  All she told me was that he had died young, in America. She knew nothing more.  In the 1990s I learned that before going to America he had lived with relatives in Holland; that he had travelled to Alabama, and that he was buried in Montgomery.  I knew nothing more until 2021, when, with help, I discovered the newspaper story about his death.  One wonders whether his family in Germany ever knew the full details of what happened.